Manage Your IP Portfolio with Precision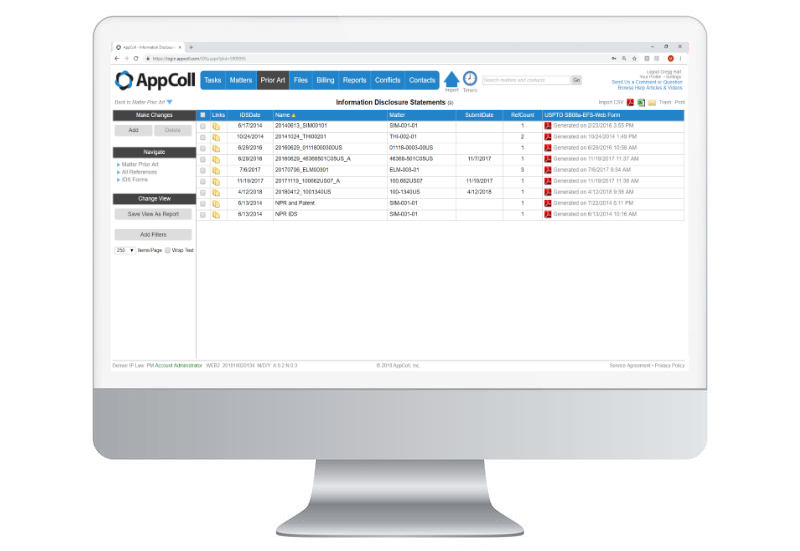 Prior Art Module:
The Prior Art module allows you to easily add references. Just enter the patent or publication number and we fill in the details from EspaceNet. Import existing prior art matrices you may have already established. Upload prior filed IDS forms. Automatically retrieve all references from issue patents and any available references from pending applications.
Enter a new case to a matter family, such as a continuation or divisional, and easily cross-cite references from related matters. Just check a box and AppColl® will do the work.
Generate a cross-citation matrix so that you can easily review which references have been cited against members of a patent family.
Prior Art Module Features:
Matter Prior Art Summary Page
From a single screen you can see all your patents, how many IDS forms have been generated per application, how many references have been cited in an IDS form and how many references need to be cited in the future. Anything in red means you have work to do.
Matter Prior Art Page
See details of all the prior art references associated with an application from a single screen. Quickly view each reference name, publication date, patentee, whether it's been cited, whether it's been reviewed by the Examiner and more. Attach PDFs of your non-patent literature references. Click on a reference to see other patents associated with it.
Adding References
Add new references to the system in seconds. Just type the reference's patent or publication number and AppColl searches Espacenet for the reference details. Title, patentee/applicant and publication/issue dates are automatically added.
Reference Cross-Citing
With the click of a button you can cross-cite a new reference across all related cases. AppColl automatically updates your view to show which application(s) need an IDS form based on the new reference citations. You can also cross-cite references based on subject matter.
Creating IDS Forms
Stop wasting time manually filling out IDS Forms. At the click of a button, AppColl populates all the details into the SB08A form. Easily create dozens of forms in minutes. AppColl can save you hours of wasted time.